You'll get even more room for at-home, total-body fitness with our newest 16 Ex Executive Trainer. The 16 Ex Self Cleaning Executive Strainer stands as the best swim spa on the market. The 16 Ex swim spa builds upon the success of our 19Ex. The patented current collector and V-Twin Jet technology optimizes the flow of water. You enjoy the best swim in any swim spa on the market and you can still unwind with hydromassage jets, ergonomically positioned in the perfect position What makes the 16 Ex stand out is the extra room for the most dynamic aquatic You'll always be ready for what's new and challenging in aquatic fitness. To swim, the current easily adjusts for every level, from toddlers to triathletes. Just turn to adjust the Aquapro control to easily swim in place. For aquatic exercise, let the swim current add resistance and build core engagement. The built-in Underwater Treadmill allows you to walk, jog or run in water's low-impact environment. With none of the pounding of dry-land activity, you'll burn just as many calories, plus benefit from 360-degree resistance! Combine that with our exclusive water watch, it's like having a personal coach on your wrist. The durable, steel-framed cabinet has sleek, modern styling, combined with the patented self-cleaning technology it is a swim spa that's virtually maintenance-free.
Specifications
WEIGHT FULL: 19,394 lbs / 8,800 Kg
WEIGHT EMPTY: 2,560 lbs / 1,162 Kg
DIMENSIONS: 186″ long x 93″ wide x 52.75″ tall
VOLUME: 7,638 L / 2,010 US Gallons
PUMPS: 2 x 5 hp VFX, 1 x 4 hp
SEATING: 4
THERAPY JETS: 24
FEATURES:
Exclusive Self-Cleaning Technology
Hydrowise Thermal Shield Insulation Technology
Pressurized Micro-Filtration
HydroClean Floor Vacuum
V-Twin Swim Jets
Soft Stride Mat
Ice Bucket
LED Lighting
2 x Hydrofall Pillows
Aqua Pro Control
Patented Current Collector Technology
VFX Pumps
STARTING FROM: $43,595.00
We Have Stock Available!
Relax in comfort with a Hydropool Swim Spa!
Save up to $10,000 on select pre-ordered models available for immediate Delivery! Selection is limited, so act now!
Offer ends Sep 24th
Click image to enlarge
Colour Selector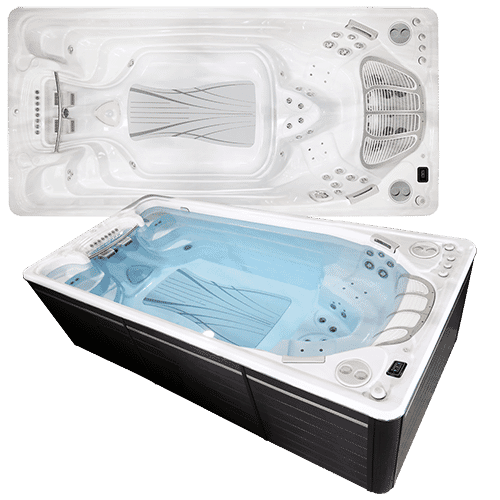 Select Shell Colour


Alpine Mist


Silver Marble


Pure White
Select Cabinet Colour


Driftwood Everlast


Midnight Everlast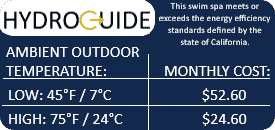 Select Cover Colour


Chestnut


Grey
Swim Spas Options and Features
FORM GogglesHydropool offers 1 pair of Form Goggles with every Executive and Aquatic Collection Swim Spa. Now you can truly understand your swimming metrics in real-time in a heads up display.

V-Twin Jet Technology The patent behind our Jet Propulsion System makes the V-Twin Jets the most powerful, predictable and non-turbulent jets on the market today.



Hydropool Pure Water System Hydropool's Pure Water System is the #1 recommended upgrade and is the smartest safest, easiest and most cost-effective way to keep your hot tub or swim spa safe and sparkling clean†!

Rollaway Spa Cover Hydropool offers optional Rollaway Cover upgrades to enchance your expereience. Easily opened by one person, the Rollaway is the #2 reccomended Upgrade and is loved by all our customers.

HydroWise Thermal Shield System Hydropool hot tubs are engineered to be the most energy efficient swim spa in the world, providing 100?F / 37?C for pennies a day!

Hydropool Self Cleaning† Systen Hydropool hot tubs filter 100% of the water every 15 minutes and is the most energy efficient filtration system in the world!

How They're Made Hydropool Hot Tubs and Swim Spas are manufactured in Mississauga Ontario Canada by experienced designers and engineers, ensuring that we continue to exceed our customer's expectations.

Installation Video Before you can enjopy your new Hydropool Swim Spa, you will need to get in installed. This prossess is easy when you know what to expect. It's all here in our delivery and install video.
FREE SWIM SPA BUYERS GUIDE
To learn how to select the perfect swim spa, download your free buyer's guide now by clicking below!